ᐅ Install WordPress in less than 5 minutes ᐅ Install WordPress with all-inclusive instructions
By loading the video, you accept YouTube's privacy policy.
Learn more
load video
Always unblock YouTube
You want finally install WordPress? So that you can create your dream WordPress website? But… if you're honest with yourself, you don't even know how it works yet? Then you have done everything right so far, since you came across this article.
This article is yours WordPress Installation Guide. You will learn how to install WordPress in just a few minutes and without any prior knowledge. If you want to reach your goal and set up WordPress properly, then read on now or watch this video tutorial…
Installing WordPress: What to expect in this short WordPress installation tutorial…
Basic requirements to be able to install WordPress perfectly
Install WordPress easily in 4 steps
Already done: Log in to WordPress
Let's start with step number 1…
1. Install WordPress: These are the basic requirements…
Yes… Installing WordPress is easy… However, there are 2 important requirements you need to meet. I will now briefly list them for you:
You need a web host (*All-Inclusive is recommended for our instructions)
You need a domain (= Internet address, such as www.yourwebsite.de)
You have neither of the two? No problem! In another blog article you will find out how you can easily create your own domain with the web host All-Inclusive… (Click here & read the article)! After you've done that, simply go back to this blog article and follow ours simple instructions!
2. Let's go: Install WordPress correctly in 4 steps…
Are you looking forward to it? Together we will now install WordPress with just a few clicks. We do this using the web host All-Inclusive, which we can only warmly recommend.
First we have to log into the so-called KAS area of ​​All-Inclusive. To do this, go to the all-inclusive start page. Click Customer Login in the top right corner.

You land on a page where you can log into several areas. Please log into the KAS area of ​​All-Inclusive. You received the all-inclusive login data by email after ordering your web hosting package (no web host + domain yet? Click here!).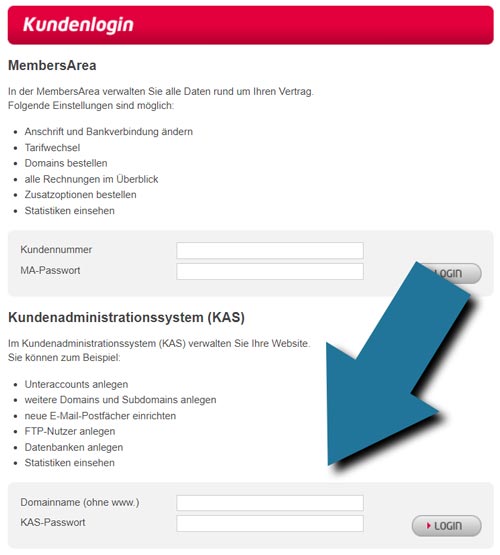 No joke: most of it is already done. After you have logged into the KAS area, you will land on the following page (see next picture). In the menu on the left, click on "software installation".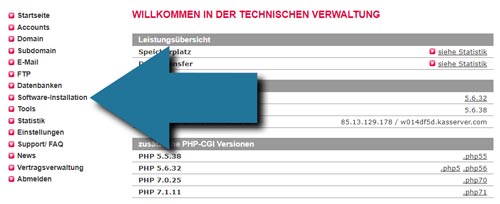 You will now see a long list of different software for your website. We want the best: WordPress 😉 Click on "WordPress" which you will find under the umbrella term "Blog". Then you touch the "Next" button with your mouse.
In the next step you will be prompted to select the appropriate domain on which you want to install WordPress. Click on the selection box next to "domain', to which the arrow in the following image is pointing. The field at "domain path' you can leave blank. Then click Next.
In step 3 of 4 you can basically leave everything as you found it. There is now normally in the field Database "create a new Database". If you have already created another database in the past and want to select it, then do so. If not, leave everything as you found it. Then simply click on "Continue".

Yay… You've now managed to get to step 4 of 4. On the page you are now shown, please do the following. For Username/Login, enter any Usernames for WordPress one. In the "Admin Mail" field, you simply enter your email address with which your WordPress user profile should be connected.
Put a tick in each of the two checkboxes under "Check and Accept". This is the prerequisite for installing WordPress. After you have done that, all you have to do is click the "Start installation nowclick.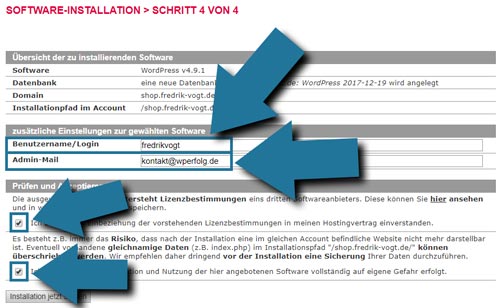 Perfect… After that, immediately the WordPress installation started. It can take up to 10 minutes for WordPress to be installed on your site.
You're probably still asking yourself an exciting question, aren't you? How do you actually log into WordPress? I'll tell you that in a moment… Before that, very briefly, an important thing…
Important: On the page you are on right now, you see very important information. Among other things, the link to your WordPress interface, your user name and your password, which was automatically generated for you! You have also received this information in your WordPress profile email. Please save it well!
3. And this is how you can always easily log into WordPress…
In order to be able to log into WordPress in the last short step, you must first get to the WordPress login interface. Simply enter your domain into your internet browser and append it /wp-admin. Then press Enter.
http://www.deinewebsite.de/wp-admin
When you've done just that, you'll land on the WordPress login interface, which looks something like this…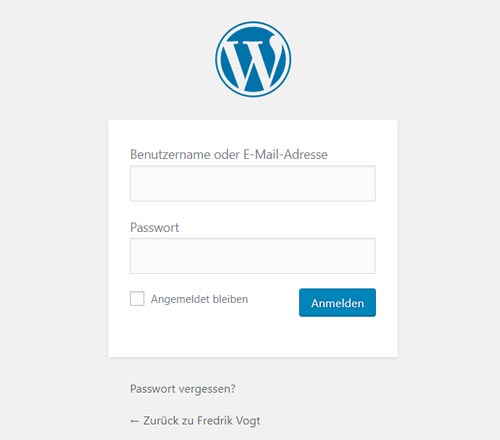 There you simply enter your access data, click on register… and that's it! You have logged into WordPress. But you are only at the beginning. The actual WordPress website has yet to be created…
Tip: You can find a detailed article on how to log into WordPress here.
After you have logged into WordPress, you are in the so-called backend. In order to find your way around there immediately, we recommend this article: WordPress backend explained!